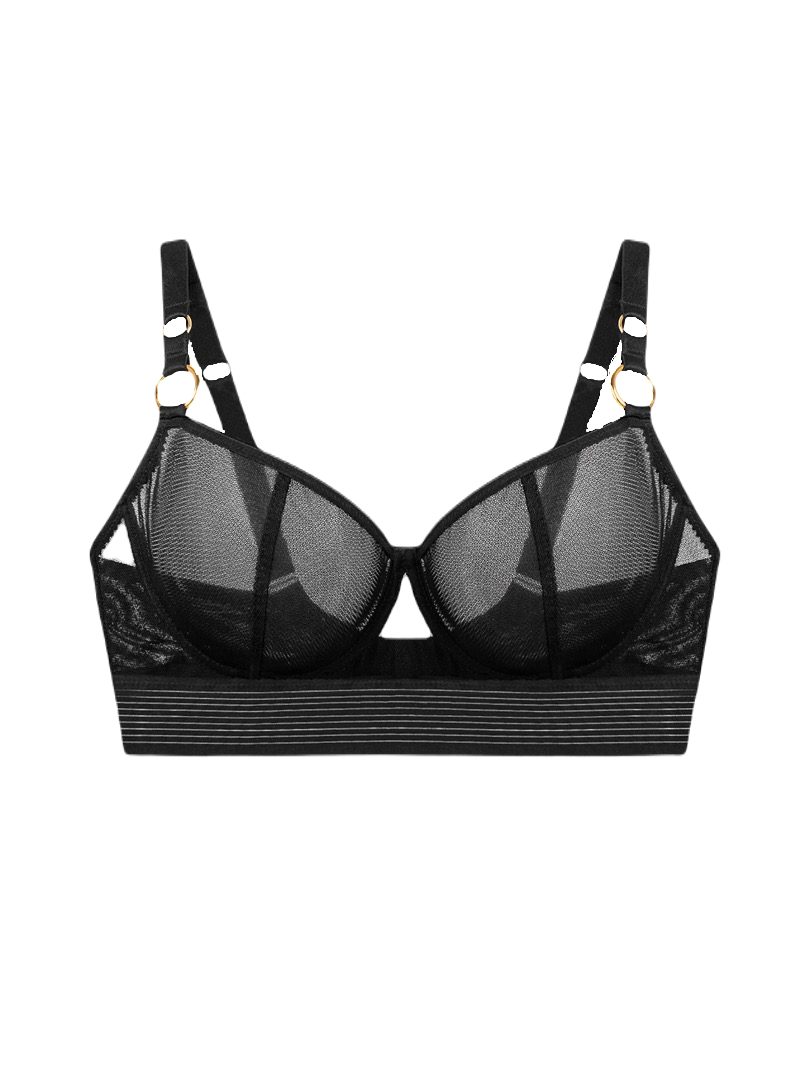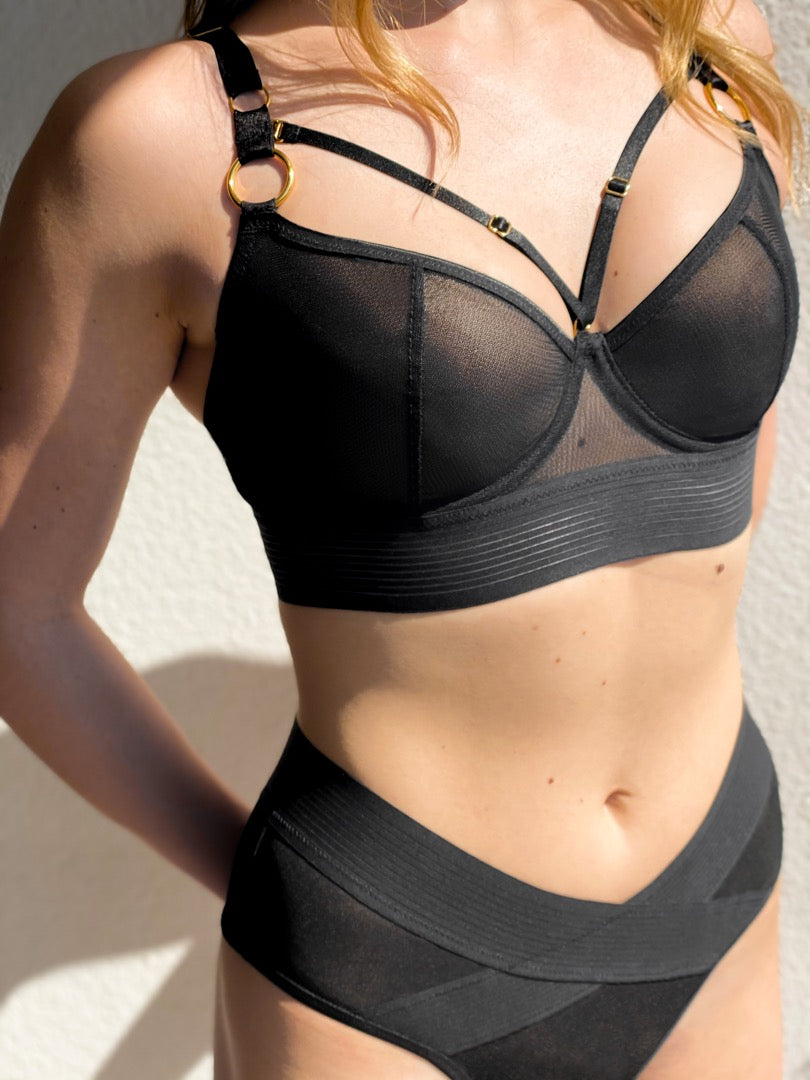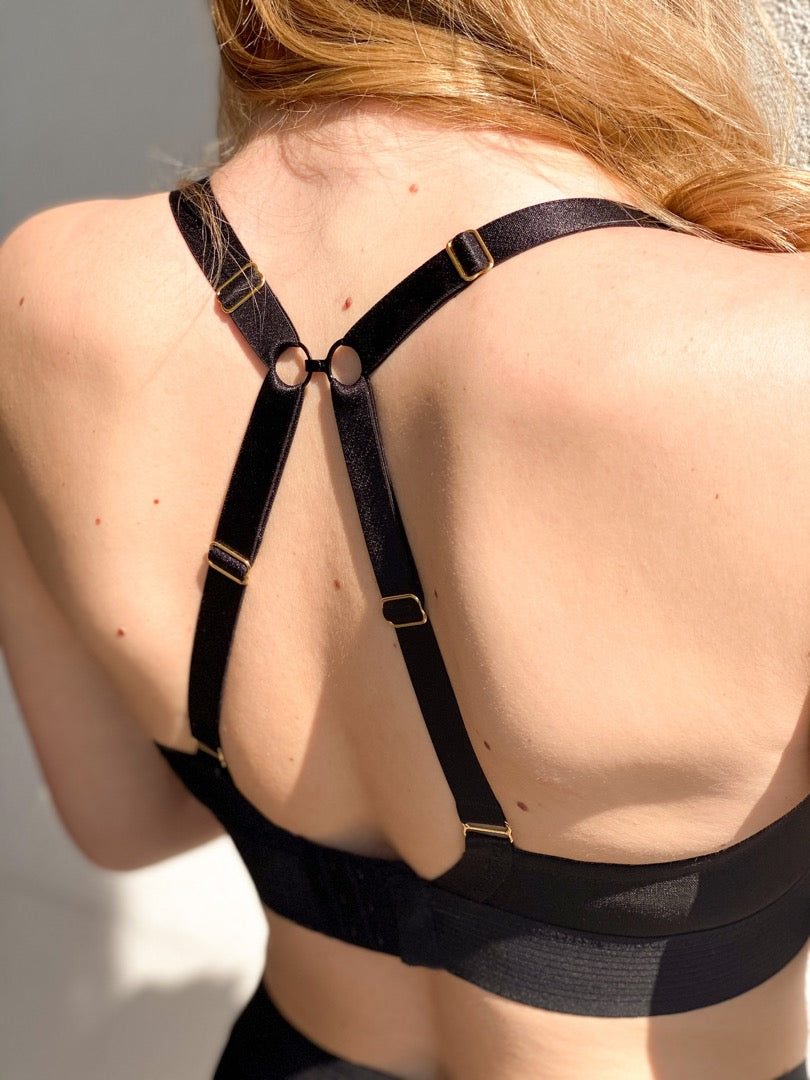 PAY WITH:
Elevate your lingerie collection with the MOVELLE Leia Ease black bra. Designed to provide maximum comfort, projection, and lift, this exceptional piece is a testament to exquisite craftsmanship and attention to detail. Crafted from soft and non stretch tulle, the Leia Ease sheer mesh bra offers a pleasing sensation against your body, ensuring all-day comfort. The delicate transparency of the tulle adds a touch of lightness to your bust, while still maintaining an optically masked effect for a harmonious balance of sensuality and sophistication.
The Leia Ease black bra is not only about style, but also about functionality. The standard shoulder straps, proudly made in Poland, feature skin-safe French accessories coated with a luxurious mixture of 24k gold. These straps can be complemented by the adjustable cleavage straps included with the set, allowing you to customize the level of support for each breast individually. Whether you prefer a sporty or an elegant and boudoir look, the Leia Ease mesh bra offers versatility to suit your outfit and mood. We pay meticulous attention to every detail of our lingerie. The bra straps are carefully designed to provide optimal support and comfort, with narrower straps for smaller sizes and wider straps for larger sizes. Special rings, including one with a hook, are incorporated in the middle of the straps, allowing you to fasten the straps at the back (racerback) for added comfort or to create a more cut-out style.
At MOVELLE, ethical and sustainable production is at the core of our values. The Leia Ease black bra, along with our entire collection, is manufactured in our small atelier in Poland by highly specialized seamstresses. We source our supplies from European manufacturers who share our commitment to building a sustainable future. With each purchase of Leia Ease, you contribute to our mission and help us make a meaningful difference in the lives of girls and women through our 1% donation to a foundation supporting them. It's time to celebrate your natural beauty, embrace your confidence, and experience the extraordinary allure of Leia Ease. Shop now and discover a new level of comfort and sophistication.
Composition:
56% poliester, 38% poliamid, 1% elastan, 5% dorlastan

Care:
Hand wash
No ironing
No bleaching
No domestic tumble drying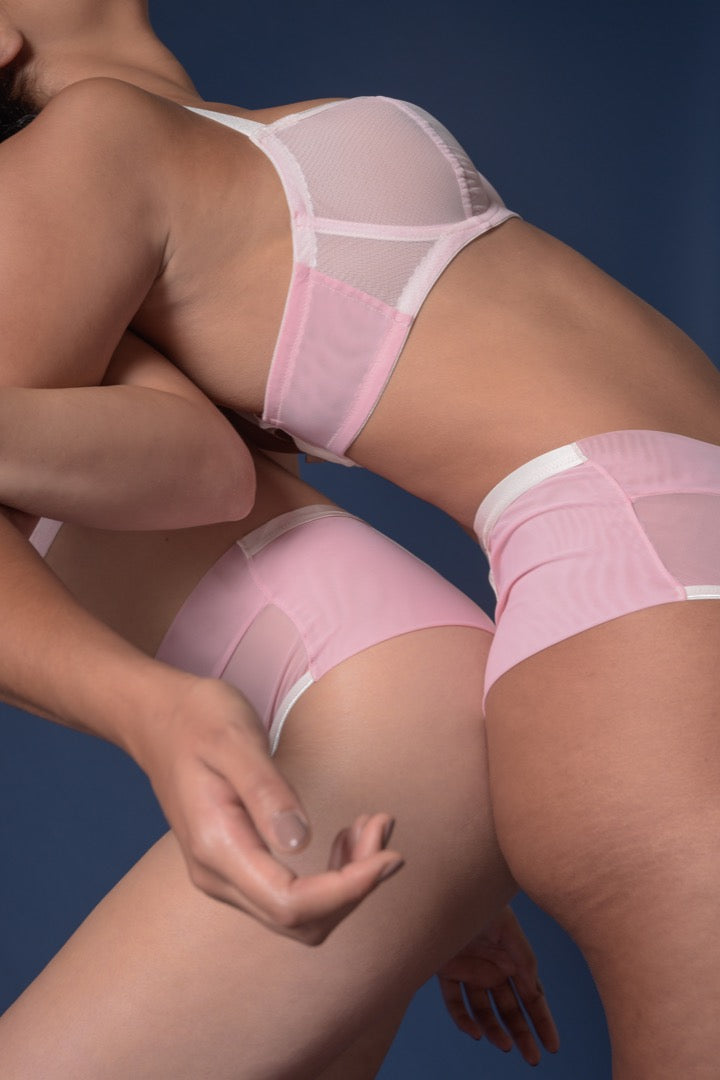 Luxurious Comfort in Your Size
At MOVELLE we reinvent the experience of luxury lingerie with a commitment to comfort, ethical production, and body positivity. Our mission is to revolutionize bra-fitting and inspire a movement of conscious consumers, proving that style, size, and sustainability can coexist. Our wide and continuously expanding size range is tailored to meet diverse needs, reflecting our dedication to inclusivity.
Sustainably Made
Our European-sourced, high-quality materials underscore our relentless pursuit of sustainability. We are proud to offer garments of superior craftsmanship from our small atelier in Poland, where we value and uphold the welfare of our skilled seamstresses. MOVELLE is not just lingerie - it's a commitment to quality, ethics, and body positivity.